These hearty, beefy bundles of joy are not for the faint-of-stomach. Come with your biggest appetite and enjoy heaven-on-a-bun with your choice of a side.
*Prices do not include tax.
Menu Items Available Until
Appetizers Available until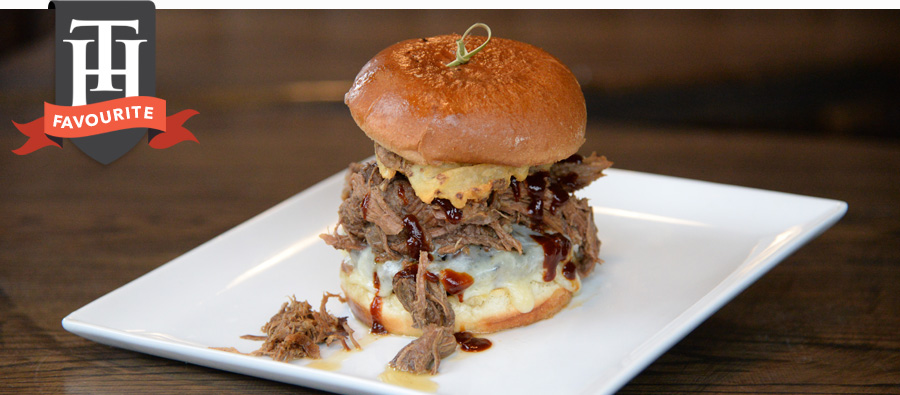 All our sandwiches are served with your choice of fries, house salad or our featured soup.
Panko chicken club
15
Panko crusted chicken breast served on lightly toasted bun with smoked bacon, aged cheddar, vine ripe tomato and maple aioli.
Herbivore
14
Grilled marinated eggplant and zucchini, Portobello mushrooms, arugula, goat cheese served on a grilled multigrain with roasted pepper and sweet basil sauce.
Corned Beef
14
Freshly sliced corn beef, Swiss cheese, grainy mustard served on lightly toasted rye bread.
Make it a Reuben
15
Fish Tacos
17
Your choice of halibut or perch topped with fruit salsa , chipotle mayo, crisp cabbage , caramelized onions, dill garlic aioli and bacon dust.
All of our burgers are house-made 8 oz. patties with aged white cheddar cheese and your choice of fries, house salad or our featured soup.
Classic Burger
13
Lettuce, tomato and our signature barbeque sauce.
TH Burger
15
Beer braised beef and crisp fried potato.
The Hangover
15
Peameal bacon, fried egg and our signature barbeque sauce.
Dirty Burger
15
Jalapeño chutney, Swiss, mozzarella , white and American cheddar , crisp onion rings with garlic aioli.